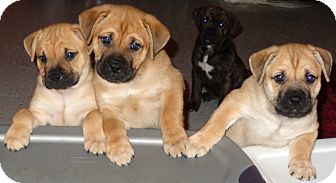 (Note: We're not sure what puppy we will be getting yet, the little guys above are just so cute!)
Katie (my Sister) and I are moving into our new apartment soon, and we want to rescue a puppy/dog from one of the local animal shelters. The only problem is that rescuing puppies is expensive! There is the fee to adopt the puppy and then there is also the pet deposit for your apartment!
All of the proceeds from our new online class- The Big 10 Art Journal Adventure -go to helping us adopt a puppy! The class starts on August 1st so hurry and grab your spot! Here's a little more about our class:
The Big 10 Art Journal Adventure is a mini class that only runs 10 days. That is 10 days of art journaling prompts and techniques to inspire you! The class will be hosted on its own private blog (not on Punk Projects) and will run from August 1st-10th. Spots are going fast-it's our most popular class yet!
10 days, 10 prompts for only $10!
What you get when you sign up for The Big 10 Art Journaling Adventure:
Access to The Big 10 private blog

10 days of art journal prompts

Art journal techniques and inspiration

Downloadable freebies to use on your art journal pages
Access to the Art Journal Adventure Flickr Group
Student Artwork will be featured here on Punk Projects
Even if you've never done Art Journaling before, We'll have a quick tutorial on how to get started on the first day!
Summer is will soon be over and everyone will be going back to school/work soon. Get in 1 last great craft adventure before Autumn!