So, living in South Florida pretty much means a lack of chilly days (in the time that I've lived here, it has gotten down to maybe 64 degrees
Fahrenheit). That being said, I still love hot soup. And this one is a winner. I made a great big batch and then froze it in small portions to thaw out and microwave for lunch. So tasty.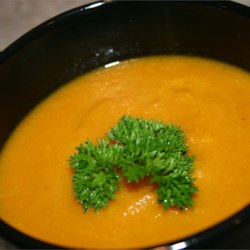 Curry Carrot Soup
Ingredients
2 Tbs vegetable oil
1 Tbs yellow curry powder
4 cups of carrots, chopped or shredded
4 cups of chicken or vegetable broth
2 cups of water (or as needed).
Salt, to taste.
Directions
Transfer the carrots and broth to a blender, in small batches, and puree until smooth. Pour back into the pot, and thin with water to your preferred consistency.